Zoomer Review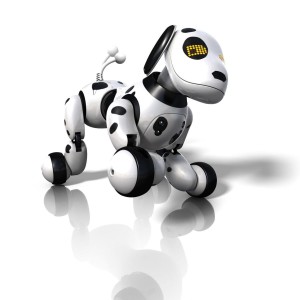 They say that dogs are one's best friend, but what is to be done if your girl or boy wants a dog yet you do not have the time nor the space to keep a living one? Caring for a pet can be very challenging in these modern times, and if this is your case as well then you can adopt Zoomer, the ultimate dog toy that perfectly mimics a living, active and entertaining four-legged pet! What makes Zoomer so different from similar toys is that it will talk, scoot around and bark just like a real dog – this toy is made entirely for children and it will certainly not disappoint.
If your child is fond of robots, then Zoomer is definitely a great choice as it can be easily taught how to speak, roll over, and shake a paw and so much more. The best news is that you do not even need to worry about cleaning or feeding the dog! This Zoomer review will put emphasis on some of the most important aspects of this revolutionary toy:
Features
Zoomer is truly an international toy from the language point of view, as it understands French, English and Spanish and its batteries can be easily recharged by using the USB cable that comes with the package. The toy is intended exclusively for children aged 5 or above: the wait for a puppy pet is over!
The dog responds to voice commands and it acts just like a normal dog would: he can do a variety of tricks, from the classic roll overs to playing dead and many other stunts. This is truly the ultimate family pet that every child would love to have: affectionate, playful and enthusiastic, Zoomer will wag his tail when he is happy, whine when he is upset and even speak with you.
Zoomer's personality is one of a kind, and the toy is designed in such a way that it perfectly mimics the reactions of a real-life dog. In addition to the tricks and stunts that are embedded in the toy, you can easily teach Zoomer a wealth of other new tricks. The flexible tail and the rotational core are two of Zoomer's most important features, as they are the core of the toy's stunts and tricks.
Zoomer will surely become part of the family before you even know it, as nobody can resist the toy's adorable LED eyes that come with a blinking feature. All the toy's stunts and tricks can be easily activated with the voice command receiver, which can process tens of different commands.
Every real dog loves a good belly scratch every now and then, and Zoomer is no exception to the rule! The realistic toy comes with built-in chest sensors that will let it know when the kid is scratching his belly, and Zoomer will react accordingly.
Cons
Zoomer is such a realistic and a feature-rich toy that it is very hard to find any disadvantage to it, other than the fact that it is not a real life puppy and that its functions are still limited, in spite of Zoomer being a very active and engaging robotic pet.
Benefits Of Zoomer
Zoomer is a low maintenance virtual pet, given the fact that you do not need to worry about cleaning the mess or feeding him on a constant basis – all you need to do is to recharge Zoomer when he runs out of battery. Just like any other pet, he can fall asleep or get bored if he is left unattended, this is why this robotic puppy is the perfect choice for children who are full of energy and always up for a good game play.
Zoomer can be taught a wealth of interesting and exquisite tricks, which means that the toy can easily reinvent itself on a constant basis: in other words, there is no such thing as routine with Zoomer, and this is extremely important for children who get bored easily!
Conclusion
To conclude, you can easily adopt your own Zoomer robotic pet on Amazon. If you do that, this toy will turn into your child's best friend and play buddy before you even know it. Order Zoomer quickly though, as stores will soon run out of stock given the fact that the winter holidays are approaching and all the children want a pet for Christmas!
CLICK HERE TO BUY THE ZOOMER DOG AT AMAZON.COM…